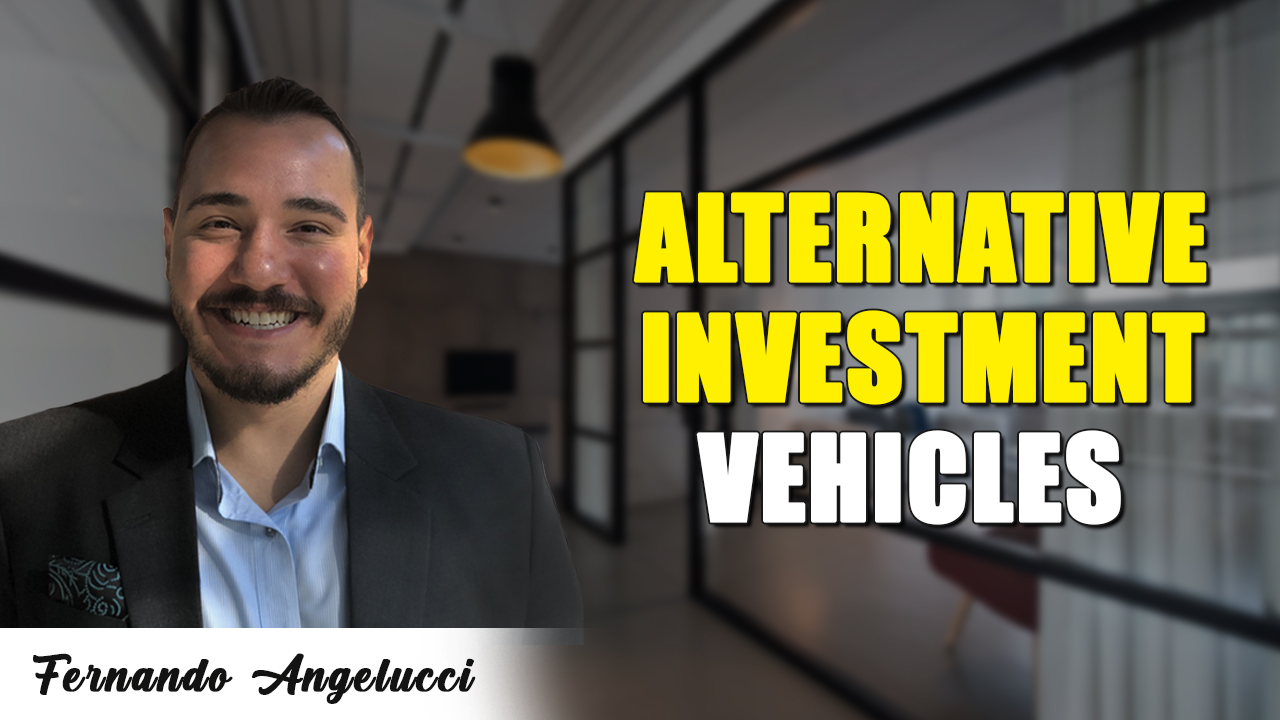 What are some alternative investment vehicles that someone can participate in?
Most people have been trained to get a job, put money into a retirement account, invest in stocks and bonds. Some reasons for this strategy are, it helps drive the economy and the other reason is that the custodians of these retirement accounts get payment when you purchase stocks and bonds.
Somehow when you invest in real estate, usually, these custodians do not get charge fees. This is also the reason why many people when they go to their fidelity account they are not allowed to invest in self-storage. 
What you need to do is set up a self-directed retirement account (self-directed IRA/401K). This will allow you to invest in anything you want. Of course, there are certain parameters but for the most part, you are allowed to invest.
Fernando likes real estate because it's a physical asset. For him, it's a hedge against inflation. As the dollar continues to drop in values, at the same time the value of the real estate will also increase to keep up with the inflation.     
According to him, he also likes real estate because it produces passive income. It allows you to lower your tax bracket. 
One more reason for Fernando liking the real estate business, the self-storage specifically over stocks and bonds besides being a tangible asset is that he has more control over the outcomes.
His advice for those who do not have the time to buy real estate or self-storage is to participate in syndications. Meaning you can become an owner or silent partner of one of these real estate investments and get all the benefits of this business without having to do the work. 
Fernando O. Angelucci is the Founder and President of Titan Wealth Group. He also leads the firm's finance and acquisitions departments. Fernando Angelucci and Steven Wear founded Titan Wealth Group in 2015, and under his leadership, the firm's revenue has grown over 100% year over year. Today,
Find out more at
https://www.thestoragestud.com
Listen to our Podcast: https://thestoragestud.podbean.com/
Titan Wealth Group operates nationwide sourcing off-market investment properties for Titan Wealth Group's acquisition as well as servicing a network of thousands of active real estate investors worldwide. Prior to founding Titan Wealth Group, Fernando worked for Dow Chemical, a Fortune 50 company, rolling out a flagship product estimated to gross $1B in global revenues.
With an engineering background, Fernando is able to approach real estate investing with a keen analytical mindset that allows Titan Wealth Group to identify opportunities and project accurate pictures of future performance.
Fernando graduated from the University of Illinois at Urbana-Champaign with a B.A. degree in Technical Systems Management.
Titan Wealth Group was founded in 2015 with the vision of gathering individual investors that have the means to invest but lack either the time to find high-yield investment opportunities or the access to these off-market deals. All too often, founders Fernando Angelucci & Steven Wear came across investors who had deployed their capital only to regret the lack of consistency or degree of returns their investments were producing. In response, Titan Wealth Group provides access to highly-vetted real estate secured investments and off-market acquisition opportunities primarily in the Greater Chicago MSA. Today, Titan Wealth Group not only assists individual investors but has grown to support the acquisition goals and capital deployment of investment groups, private equity firms, and real estate investment trusts (REITs).
As a facilitator of wealth growth, Titan Wealth Group believes that success is not limited to the sum of our efforts and is infinite with what can be accomplished through partnership.
#SelfStorage #RealEstateInvesting #AlternativeFunds